Just a small sample of websites we've built for businesses in Narooma.
Narooma and it's broader district has a population of around 8500, with it's local economy supported predominantly by tourism. Boasting some great startups and innovative businesses left, right and centre, Narooma's major sectors are accommodation, charter tours and hospitality. Narooma's population is also supported by trades, builders, retail and aged care.
At Fisse Design, we've been lucky enough to develop relationships with not only our own clients, but sub-contractor arrangements for web development on an ongoing basis. In fact, one of the first sites we built here was narooma.org.au. Check out some of our other web designs below. Narooma truly is a (beautiful) land of opportunity! Right now, we're working on some new websites for Narooma Pre-School, Lighthouse Surgery, EzyPrint (Narooma / Moruya) and a few others!
Narooma Psychology & Allied Services
Key Features & Services
Consultation & Planning
Wireframes
---
Black Bream Point
Key Features & Services
Consultation & Planning
Wireframes
Booking
Image Sliders
Testimonial Slider
---
The Whale Inn & Restaurant
Key Features & Services
Consultation & Planning
Wireframes
Search Engine Optimisation
Image galleries & sliders
Blogs & Social Media Integration
---
Property Profit Co
Key Features & Services
Consultation & Planning
Wireframes
Search Engine Optimisation
Image Comparisons & Gallery
---
Horizon Apartments Narooma
After working with Horizon Apartments Narooma for 4 years and managing social media, video production, website updates and hosting, we were approached again to revisit the website for a brand new build. Based on a fresh new design that incorporates their colours and brand elements, we build an easily navigable mobile responsive website complete with booking forms that integrate to their booking management system.
Key Features & Services
Search Engine Optimisation
---
Betteridge and Sons Plumbing
Key Features & Services
Consultation & Planning
Wireframes
Search Engine Optimisation
Services Grid
---
Narooma Chamber of Commerce
In 2013 there was a tender out to redevelop the Narooma Chamber of Commerce and Tourism website www.narooma.org.au. Our proposal won the tender and we set out to create an easily managed, responsive website that was true to the original content structure and design aesthetic. Using their brand materials and new, high resolution photos, we revitalised the design and brought it all up to date.
Over a 3 month development time frame, we adhered to the launch deadline and constructed custom page templates so the site could be edited in WordPress easily. We then migrated around 15o pages of HTML content into usable, editable content and while adopting a new heirarchy for the content that made it all a little more user friendly.
The site has been a massive success and we thoroughly enjoyed working with the Chamber team. Over 3 years, the site has steadily grown with more businesses online and around 200K page views a year, which is a massive boon for our local tourism. It has an extremely low bounce rate of 36% with visitors viewing around 4-5 pages every visit. These are the hallmarks of a well made and well thought out website.
Key Features & Services
Consultation & Planning
Photography
Content migration
Custom, responsive build
---
Island Charters Narooma
Showcasing an incredible underwater video of our abundant marine life and seals, the Island Charters Narooma website instantly appeals to its customers with its aspirational qualities. Trialling a number of bookings systems, Chris at Island Charters settled on the Rezdy bookings platform which we were able to integrate with the website, broken up into numerous charter tour categories such as diving, whale watching, fishing and tours of Montague Island.
Being a small town, Narooma is a very competitive landscape for search engine optimisation, especially when keywords include the locality are king and there a 4-5 major competitors after the exact same keyword phrases! During the site build, we employed search engine optimisation tricks gained from 23 years experience and employed solid, on-page optimisation methods. Without even worrying about backlinks (while the competitors do!) the quality of the build has ensured top rankings. We provided Island Charters Narooma with social media strategy across various channels to promote traffic to the site. Chris has adhered to this early on in the piece has enjoyed #1 search rankings on Google for many keyword combinations including whale watching, Narooma, diving, tours, charters and Montague Island.
Key Features & Services
Consultation & Planning
Search Engine Optimisation
Content creation and optimisation
#1 on Google
---
Narooma Building Services
We were approached by Tony Lawson of Narooma Building Services to bolster its marketing efforts with quality quote documents and a new website to show off their past projects. With nothing already in place, Fisse Design provided a unique design that used their existing logo with some added enhancements to their brand. We arranged the photography and now the site shows off photos, awards, testimonials and has clear calls to action to get in touch. Lastly, these builders had no presence on Google at all. In 2 months, we had them rise past competitors and rank #1 on Google for their preferred search terms.
Key Features & Services
Consultation & Planning
Stationary and document tidies
Photography
---
Sheriff Charters
We worked with Lyndall at Sheriff Charters and developed the structure, navigation and key content offerings for their Montague Island and Fishing charter business. After working through the wireframes, we used the supplied logo and cues from a flyer they'd had made to create an awesome looking site that's mobile and tablet friendly. After releasing it, the site almost immediately leapt up for their preferred keywords as the site had on-page search optimisation techniques applied as part of our regular build process.
Key Features & Services
Consultation & Planning
Wireframes
Branded design
Pricing tables
---
Virtually Kalina
This young entrepreneur approached SETS in Batemans Bay and obtained funds through the NEIS programme. Noting the growing trend for virtual assistants (VA) around the world, Kalina saw the vocation as a good way to obtain work in remote Narooma. Using a cool web design to attract her audience, she stands out from the crowd with a retro, kitsch theme that looks fantastic. A one-page scroll site, Virtually Kalina uses themed full screen sections as you scroll down the page - and of course, looks slick on mobile.
Key Features & Services
Wireframes
Retro graphics
Mobile friendly
One page scrolling site
---
Oakleigh Farm Cottages
Oakleigh Farm Cottages is a farm stay accommodation provider in Mystery Bay, 15 minutes South of Narooma. We turned old into new, by maintaining some of the page layouts, colours, and general feel into a new, content-managed site that the owners love! The new site is completely responsive and links through to their preferred bookings provider - Little Hotelier, and shows off their TripAdvisor reviews.
Key Features & Services
Consultation & Planning
Wireframes
Bookings
Accommodation site
TripAdvisor
You can read their testimonial here.
---
Time for a new website?
Check out some of our popular, high-value packages
Our sites are designed from scratch & unique to your business requirements. They work on all devices, come with a content management system and can be upgraded at any time with a range of powerful options. We also do custom work for special projects a little outside the box, so drop us a line for a chat.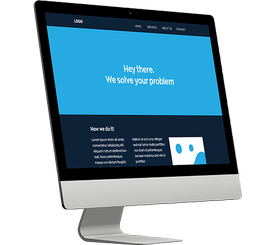 Simple
Rebuilds + Landing Pages
Basic Design
Up to 3 pages
Rebuild & modernise old sites
Content Management System
Get started quickly
Responsive on all devices
Fix bugs or change logos & branding
FAST turnaround
Get a basic online presence up quickly and affordably. Perfect for landing pages, or modernising a smaller website to look great on all devices.
Essentials
Effective Business Websites
Beautiful, branded web design
3-5 pages
1 homepage + content page design
Business consultation
Responsive on all devices
Social links
Image galleries & sliders
FAST turnaround
Perfect for businesses that don't need all the bells and whistles, but need an effective website that addresses their goals and looks better than all their competitors.
Maximiser
Beautiful + Featured Packed
Exceptional, detailed custom design
Larger sites up to 10 pages
1 homepage + 3 content page designs
PLUS everything from Essentials
Complex web forms
Video backgrounds
Basic SEO built in
Website Training Included
Detailed design for a truly exceptional business presence. Includes 4 page layouts, unlimited content pages, basic SEO, training and complex web forms.
Other websites we've done
We do web design & video work in Sydney, Canberra and the South Coast of NSW
Check out some latest work we've done for businesses just like yours!